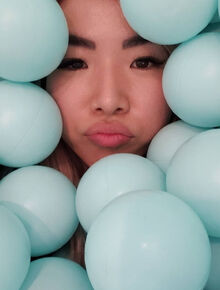 PaintingRainbows is a YouTuber/Voice Actor, who voices Yandere-Chan in ItsFunneh Minecraft series "Yandere Highschool". She makes different types of gaming videos with her 4 siblings AKA The Krew, known as Funneh (Kat) , Gold (Kim) , Draco (Allen) & Lunar (Wenny) 
Betty, who is popularly known online as PaintingRainbows, is a Canadian YouTube star who specializes in gameplay videos. She is also a voice actor, who voices a character in her sister's Minecraft series 'Yandere Highschool'. An expert in gaming, she creates a wide range of gaming videos with her siblings, who are also YouTubers and have their separate channels. This YouTube content creator became popular after she created her channel PaintingRainbows in 2013. She is well known for her funny roleplay, adventure, challenge, and mini-game videos, which she creates using the game creation platforms like Roblox, Minecraft, etc. She has amassed a huge fan base on her YouTube channel and is loved by her audience for her humorous and uninterrupted commentary along with her live stream gameplay. 
In one of itsfunneh's vlogs "The mansion we stayed at lit on fire" Kat and Kim ask what did they manage to bring out when the mansion is burning, Wenny replied she took her passport, Allen brought out her phone while Betty was being a noob by saying she brings out like everything, Allen said that when they were about to evacuate, he and Wenny said that Betty was the one worried about the fire but she was the last one to come out even saying "Me and Wenny are already out the door and we're like "Where's Betty?" and she like comes out hauling a huge truckload of luggage" 
in one of itsfunneh's videos Funneh described that PaintingRainbows has now improved her PVP skills cause before when the krew are playing Minecraft Granny, Funneh ask who will be the guard that yields the sword and assign Rainbow however Gold replied "She's bad at PVP remember" to which Funneh said "Oh, wait you're right... we always talk about how bad she is at PVP" 
Information
She is the oldest of the 5 siblings. 
She loves making jokes and puns that not everyone gets.
Her zodiac sign is Virgo.
In itsfunneh's "We can't believe you made this happen/Krew reacts to fan made video/meme" video, she actually thinks "I have achieved comedy" when she successfully made a pun (a joke or pun that everyone gets"
Her minecraft username is sometimes Rainbwoah
Community content is available under
CC-BY-SA
unless otherwise noted.