LunarEclispe
LunarEclispe, or Wenny, is 23 years old, and she has black and purple hair on the bottom in real life. She is also an artist where she makes most of the thumbnails in ItsFunneh's videos. In ROBLOX, she has turquoise or purple hair and the woman face. She is a YouTuber along with her other siblings,
PaintingRainbows
(Betty),
GoldenGlare
(Kim),
ItsFunneh
(Kat), and
DraconiteDragon
(Allen). Her birthday has been said on the Krew discord and Funneh's Twitter that it is February 28. Wenny aka Lunar Eclispe is a Canadian illustrator and graphic designer. She is known for posting sketches, illustrations, and other graphic design videos on her YouTube channel. She is extremely innovative when it comes to graphic designing. Her illustrations and sketches are brilliant, amusing, and one-of-a-kind. Despite being so young, Wenny already has immense knowledge in the fields of art and graphic designing. With over 406k subscribers on her channel, she has earned moderate recognition on the social platform. On a personal note, Wenny is the sister of fellow YouTubers ItsFunneh, PaintingRainbows, GoldenGlare and DraconiteDragon. All of the siblings are popular social media personalities and often collaborate with each other. As a graphic designer, Wenny helps out her siblings in designing banners for their projects. Talking about Wenny's personality, she seems to be a simple and down-to-earth girl. With her impeccable graphic designing and drawing skills, she is sure to hit half a million subscribers very soon in the coming future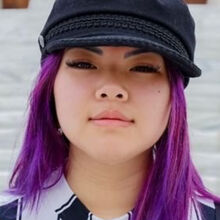 Personality
Lunar is very nice and has a sense of humour. She can be a bit crazy at times. when it comes to gaming Lunar likes to talk about the paranormal and seems to like roleplaying as a witch
Trivia
Her favorite BTS member is Jimin
If she could only eat one food, it would be Dim Sums
Lunar has a unique way of spelling her YouTube channel's name, which is LunarEclispe (S and P in 'eclispe' should be switched).
Her zodiac sign is Pisces.
Her Favorite KPOP Group is Highlight.
Her Favorite Colour is Purple.
Her Real name is Wenny.
She likes to draw and makes most of ItsFunneh's Thumbnails.
she likes to dress up as a witch or wear a purple clothing or even shows interest in the paranormal
the fanmade videos sometimes depicts her dress as a witch
Community content is available under
CC-BY-SA
unless otherwise noted.