Kyran is a student that attends Yandere High School along with Funneh, Gold, and Alec.
Appearance
Kyran has messy, dark blue hair and dark grey eyes.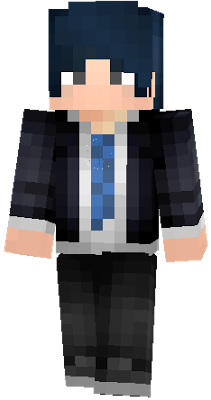 Season 1
TBA
Season 2
TBA
Personality
Kyran is seen as the shy and awkward person when Funneh and Gold first met him in a cooking class during the duration of season 1. As season 1 progresses, it is shown that he is actually a weeaboo, which means he is an anime fan.
History
Not much is currently known about Kyrans history but it was revealed that Kyran and Alec were good childhood friends but something happened that made them mad at each other which still remains unknown.
In season 2 episode 27, Funneh and Gold go with Kyran to his home. It is revealed that Kyran lives in a farm with his parents and his many siblings. Other than Lucas, Kyran's siblings are Blake, Austin, Katie, Zach, and Eliza.
Story
TBA
Trivia
Kyran seems to have an obvious crush on Gold, however Gold seems to be oblivious to that.
Quotes
"Did a rat die in it?"--Kyran to Beatrice, Episode 3, ''Vomiting in the Cafeteria!"
"Don't tuag my chaie!"-- Kyran to random kid when he was a baby. Deathcon part 2
References
Community content is available under
CC-BY-SA
unless otherwise noted.